In case you came back here looking to see if I've started blogging again, I have. My new web address is crankycon.wordpress.com. See you there.
All good things must come to an end, and so do all not-so-good things.  Hopefully this blog has been the former.
You might consider this a hiatus – perhaps it will only be a few months, or maybe a few years.  But for now I am done with the blog.  It's nothing serious.  Long story short, I just don't have the time to adequately devote to the blog anymore.  Maybe I'll change my mind down the road, but for now, c'est le fin.
I don't really want to write some weepy, extended post saying goodbye.  For many of you, I will just be seeing you in different forums.  I am not completely abandoning blogging – I'm still blogging at Almost Chosen People, where hopefully I'll finally complete that Federalist Papers series.  I might also pop up in various comment boxes from time-to-time.
I have made many friends through the blogosphere.  We will continue to stay in touch.  I appreciate everybody who has read this little blog of mine, one which has been relatively successful, at least by small blog standards.  It's nice to know someone out there appreciated my rantings.
Thanks,
The CrankyCon.
Please excuse the radio silence.  I've been in cool Orlando for what is basically a business vacation.
Anyway, here's a little token from the happiest place on Earth.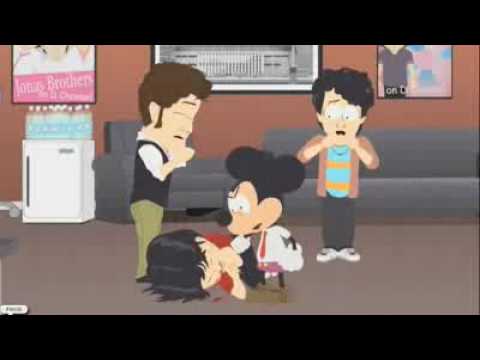 It is hard to imagine that Newsweek could sink any lower than it already has, but perhaps I just lack imagination.  Somehow, they have managed to sink below even my modest expectations through this attempt at rehabilitating the image of one of the most noxious, race hustling demagogues in American history.  In the process of kissing up to the "Reverend" Al it also engages in more distortion about the Shirley Sherrod story, while completely whitewashing the extend of Sharpton's treachery.
First, in order to pump up Sharpton, they first tear down the right.
But the interesting question is whether his role is still needed in an era when the man atop the national power structure himself is black, and Sharpton now regularly meets with him—issuing not just demands but advice. If you asked Sharpton himself, he'd undoubtedly reply, are you serious? Blacks still have twice the unemployment rate of Americans overall, and young black men are still being shot by cops under circumstances that range from tragic to suspicious. The election of Barack Obama has provoked an almost hysterical reaction from the far-right media, which last week claimed as its latest victim an obscure African-American official in the U.S. Department of Agriculture.
It's highly amusing that a left-wing rag like Newsweek must employ the term "far-right."  How come the MSM never speaks of the "far left?"  Oh, I guess it might have something to do with such institutions occupying that particular space on the political spectrum.
This is not the last mention of the Sherrod story.
And if Sharpton's "mission" and "message" haven't changed, his approach surely has. From last week's fast-moving events in Washington—which found Sharpton in Hawaii, delivering a speech to a convention of dentists—the lesson he drew was about the danger of leaping to conclusions, as both the NAACP and the administration did in disowning Shirley Sherrod, Georgia's director of rural development for the USDA, after a right-wing Web site and Fox News denounced her as a racist based on an excerpt from a months-old speech. So outrageous was this charge—in context, her point was clearly about her successful struggle to overcome prejudice—that even Beck came to her defense. But Sharpton knows all too well the temptation to seize the news cycle at its peak and check the facts later; thinking back 25 years, and with the circumstances reversed, it's easy to picture him grabbing a bullhorn and leading a march on the USDA. He regards that sort of thing now as not just irresponsible but counterproductive. "Shirley Sherrod is an example of what happens when we play the right wing's game: they win. We have to choose our battles wisely."
Oh, that poor victim Shirley Sherrod.  How incredibly tone deaf and/or ignorant does one have to be to continue to insist on this portrayal of Sherrod as a victim?  In the very speech that garnered her notoriety she accused everyone who disagreed with the administration of being racist.  She later claimed that Andrew Breitbart wanted to bring back slavery.  Then of course there is the story I linked to the other day that details the radical racial politics of the Sherrods.  And finally there is this calumny against Fox News.  Unfortunately for Newsweek it has been demonstrated that Fox didn't even run a story about Sherrod until after she was fired.  Of course, it's possible that Newsweek is just showing its jealousy of a more popular and effective media institution.  The administration – the people who are actually to blame for Sherrod's firing, by the way – acted out of fear of what Fox News might do.  Newsweek's major accomplishment, meanwhile, is being useful fuel for suburban dads trying to light their barbecues.
Furthermore, the final sentence is rich in irony.  Al Sharpton has built his entire career on making (usually) false allegations of racism.  The only reason he's on the cover of Newsweek is because he is a sadly effective demagogue.  So for him to whine about playing at a game that the right usually wins has to be the most unintentionally – or maybe not – obtuse sentences ever uttered.
And while Newsweek is busy defaming the right, it's content with whitewashing Sharpton's record.
Sharpton has been right much more often than wrong in his choice of causes, dating back at least to the 1989 murder of Yusuf Hawkins, a black teenager who paid with his life for the mistake of walking down the wrong block in Brooklyn. Many African-Americans will be forever grateful to Sharpton for taking on the thankless task of defending the victims of Bernhard Goetz, who opened fire on four unarmed black teenagers in the subway. But he has also made some grave missteps. In 1991, during a tense confrontation between blacks and Orthodox Jews in Brooklyn, he notably failed to calm tensions with a remark about "the diamond merchants in Crown Heights." In 1995 his reference to "white interlopers," at a protest against the eviction of a popular Harlem music store, was followed by a fatal arson attack on the white-owned business that held the lease.
Missteps?  He egged on the rioters at Crown Heights, and his words at Freddy Fashion's Mart directly led to murder.  Those are just missteps?  Even more sickening, Newsweek swallows Sharpton's tripe about the Tawana Brawley hoax.
It is his refusal to apologize over Brawley—or to pay the defamation judgment, which was eventually settled by donations from wealthy friends—that still haunts his reputation among white Americans of a certain age. Tempting as it must be to put the matter behind him, Sharpton still answers questions the same way, without apology, but artfully framing the issue in the way most favorable to him. "I listened to the child, and I believed her," he says. "When I hear that people are still mad at me about this case, I want to ask them, 'Have you ever been asked to help a child that's been hurt?' I don't apologize for anything I did to help her. Judge me the way you will."
So we're to believe that this man has somehow changed, yet he won't apologize for destroying the life of an innocent man, Steven Pagones?  But this hardly the only point in this article where the magazine stands in as Sharpton;'s pr agent.
His enemies sometimes charge, bizarrely, that he has chosen a career as a peripatetic community activist for the money. "It's amazing when people call me an opportunist," he says. "Do you know how much money I could have made with a megachurch like T. D. Jakes or Eddie Long? Don't you think I could have done that?" By the same token, he is too honest to pretend indifference to the ego rewards of fame: "What I do is my passion, but it's also constant work, and if my reward is getting on television, it seems fair to me." There are places where he draws the line on publicity, though, and one is Dancing With the Stars, whose invitation he declined in 2008. "There are enough black people dancing on TV without me," he jokes.
Does anybody believe that Al Sharpton, if he had to actually get by in the real world with the "skills" that he possesses, would be nearly as famous or as well-off as he is right now?  The man is on the freaking cover of Newsweek. Every time he says "boo" there are a million stories in the press.  Every time a white man says something that borders on racism, he's one of the people that they have to go crawling to in order to beg for forgiveness. I don't think megachurch Al would have been quite as fortunate. Is there even the remotest hint of self-awareness on the part of anyone involved with this article?
If you haven't thrown up yet, the closing paragraph should seal the deal:
It is, of course, the fate of people like Sharpton to be misunderstood, and his own tendency to get carried away while addressing a crowd has contributed to it at times. He says, accurately, that the innumerable marches he has held over the years have been almost entirely free of violence, except for the time an enraged onlooker stabbed him in the chest. He is also, he believes, partly a victim of history: Jackson and, before him, Martin Luther King Jr. had much more radical black figures to their left, Louis Farrakhan and Malcolm X, who made them seem moderate by comparison. There has been no one in Sharpton's time to play that role for him. He is out there all alone, still standing on the same principle he first enunciated in his housing project in Brooklyn: poor people have the same rights as rich ones, to justice in the streets and in the courts. If he didn't exist, we might, in fact, need to invent him.
Awww.  Poor, misunderstood Reverend Al.  If only white folk like me had more place in their hearts for bigoted demagogues like him, this world would surely be a better place.
That our mainstream media institutions can seriously manufacture a piece like this speaks volumes about state of the media as a whole.  That said, Newsweek's rantings about Fox News are understandable in light of stories such as this one.  Instead of having a monopoly on the dissemination of information, Newsweek has become a shrieking noise machine that is no more relevant to our political discourse than the Onion.
Anyway, I look forward to next week's cover story on the new and improved David Duke.
While I think that populist democracy is a danger to our republic, I am just as much opposed to rule by oligarchical judicial elite.  The more I reflect on it, the more I agree with Mark Levin that the ruling that stayed a good chunk of Arizona's immigration law is simply abominable.
One of the recurring themes of this blog is that populist democracy is an affront to the republicanism of the Framers.  Yeah, I know it's not as sexy as ranting about the dangers of Calvinism, but it's something.
The problem with political theory, at least compared to the hard sciences, is that we generally lack any concrete empirical evidence to "prove" our claims.  Sure those quantitative political scientists make an attempt to turn the world of politics into a laboratory, but all they end up doing -aside from boring the snot out of the rest of us -  is proving that political science is not a science like chemistry or physics.
But sometimes we luck out, and we are afforded wonderful examples that demonstrate the validity of our theories.  While such examples may not definitively prove our theories in the same manner as a mathematical proof, they go a long way in helping to make our case.
So, thank you, California.  No state is a better model for the sort of populist democracy that I've warned about.  Many, if not most, of the major legislative proposals are brought to the people by way of referenda.  Instead of a class of experienced legislators hammering out ideas, we get democracy by thirty second television spot.  And now we have a political class so cowed by the population that they are unwilling to make any of the serious choices that could potentially guide them out of a crisis.
And so California is on the brink of bankruptcy.  The actor-Governor, who won his job initially thanks to the magical gift of a recall, and who initially boasted about how he was going to change the political culture of Cal-ee-for-nee-ya, decided that actually engaging in the type of reform needed for the state might lead to a failed bid for re-election, and so he retreated.  In many ways he simply went back to doing what he does best (sadly, in this case): acting.  He acted like a big shot toughy, deriding his opponents, for example, as economic girlie men.  Unfortunately he was the girliest of the lot.
And so now the state attempts to dig out of this budget mess with half-hearted attempts and lame gimmicks.  Moreover, the governor has decided that he's just going to punt this issue to the next regime.
Sadly, even these pathetic attempts at fixing the budget are mocked by dimwitted demagogues.
Shannon Murphy, a spokeswoman for Assembly Speaker John Pérez (D- Los Angeles), said Wednesday: "It's shocking that every single one of the governor's budget moves deliberately hurt people."
Yes, that mean governor.  If only he realized that there was a way out of this budget mess that didn't hurt anyone.  Why, if they got down to business not only could they balance the budget, but they'd also be able to provide ponies and candy to all the wonderful citizens of California.
I recognize that populism is not solely to blame for this crisis, that the irresponsibility of our legislative class extends to every region.  But the deterioration of our country's most populous state should give pause to those who advocate more of the silliness.
I propose that, as a society, we should all agree to stop using the term "Uncle Tom."  It is a disgusting smear, both for technical and substantive reasons.
It is substantively disgusting because it implies that all black people ought to think and act alike.  I would go so far as to say that employment of this phrase in order to label someone a "race traitor" is itself racist.  Instead of cotton plantation fields, blacks are to be confined to rhetorical ideological plantations, with various Quimbos and Sambos acting as overseers to ensure that no one "gets out of line."
Which leads me to the technical point.  Connecting the fictional character of Uncle Tom to race treason smacks of historical illiteracy.  Uncle Tom martyred himself rather than reveal the location of runaway slaves.  Yes, I know that there are shifting literary criticisms, blah blah blah, but  any literary criticism that sees Uncle Tom as a "race traitor" is the sort of criticism worth ignoring.  If there are "race traitors" in the book, they are the aforementioned Quimbo and Sambo.
I have written more than my fair share about the descent of E.J. Dionne from respectable voice of moderation to complete partisan hack.  Today I'll just let Quin Hilyer have all the fun.
For approximately 15 minutes last week Shirley Sherrod was a sympathetic figure.  She was fired from her position at the USDA after a selectively edited video made it seem as though she advocated what was tantamount to bigotry against whites.  The full context of the video exonerated her (for the most part), and that led to the counter-reaction.  Certain conservative pundits decided to be the first in line to apologize on behalf of Andrew Breitbart.  One day she was a villain, the next she was an iconic figure somewhere on the plane of Martin Luther King Jr. and Mother Theresa.  This piece in Salon typifies how silly the rush in the opposite direction got to be.
Soon it became obvious that those that fell all over themselves to laud Shirley Sherrod were acting just as stupidly – if not more so – than those that condemned her.  As I blogged about last week, in a segment of her speech she labeled Obamacare opponents as racists and seemed to indicate that all opposition to Obama was motivated by racial hatred.  Then, in an interview on CNN last week, she asserted that Andrew Breitbart:
would like to get us stuck back in the times of slavery. That's where I think he would like to see all black people end up again.

And I think that's why he's so vicious against a black president, you know. He would go after me. I don't think it was even the NAACP he was totally after. I think he was after a black president.
Charming to the last.
And today Dan Riehl has an extensive post chronicling the, err, interesting politics of Mrs. Sherrod and and her husband Charles.  He includes a link to this video, which contains the quote mentioned at the top of the post.
There's much, much more at the link to Riehl's site.
Civil rights heroes?  I think not.
Via AmazinAvenue comes talk of a trade that could go down as the most monumental deal in the history of sports.  According to Ken Rosenthal, there are talks between the Mets and Royals.  The names on the Mets side: Jeff Francouer, Luis Castillo, and Oliver Perez.  On the Royals side: Jose Guillen, Gil Meche, and Kyle Farnsworth.  Only if Brian Cashman gets on the phone with Theo Epstein to discuss swapping CC Sabathia, Mark Teixeira and Mariano Rovera for Jon Lester, Kevin Youkilis and Jonathan Papelbon could a deal of equal magnitude possibly go down.
This deal has to get done if for no other reason than to finally decide the winner of The Contest.
The other day we had a bit of a discussion in the comments about the 2012 election, and Jay Anderson expressed concern about Mitt Romney's possible nomination, noting that the GOP has a penchant for nominating old-time retreads.  That is a fairly good point.  With the exception of George W. Bush, every single Republican nominee after Goldwater was either someone who had run an unsuccessful campaign previously or was the sitting incumbent.  Nixon of course lost the general in 1960, Reagan had a failed primary campaign in 1976 (and a lower profile one in 1968), Bush the elder lost to Reagan in 1980, Dole was a several time loser, and McCain lost in 2000.  Then there was Ford, who was a sitting incumbent.
On the surface, it seems a bit odd to suggest that the Republican party really chooses anyone.  After all, this is the age of primaries, and it is the electorate, not party pooh-bahs that select nominees, right?  Or is that really the case?  With the exception of Reagan in 1980, each of the nominees in the primary era was what you might dub the establishment pick.  And what is the establishment?  Party leaders, other elected GOP officials, Beltway pundits, etc.  I think that I would not be going out on a limb in suggesting that had the nominee been selected in the pre-1972 manner, the result would have been no different in any year again with the possible exception of 1980.  In fact, the older system arguably produced as many if not more "outsider" nominations than the new one – Goldwater in 1964 being the prime example.
So this got me to wondering.  Are primaries really done deals before they even start?  Another way of putting it is, does the emergence of a clear establishment candidate send a signal to GOP primary voters that steers them towards a preferred candidate?
It would be a difficult thing to measure.  One potential way of measuring the effect of establishment preference would be to see if there is an immediate upswing in a candidate's fund-raising post-major endorsement.  Polling numbers are unreliable, especially during the course of primary season, but that might be another way to check to see if establishment endorsements have sway.
Another question – does the same hold true for the Democrats?  Does the "establishment" candidate have an edge?  Well, there the evidence is a bit murkier.  I would suggest that, at the very least, McGovern, Carter, and Obama would not have been the selections of an insider party convention or caucus.  Even Bill Clinton might not have become the nominee under the old method of selecting candidates.  Does this suggest that Democratic primary voters are less swayed by their party's establishment preferences, or is this just the result of an unusual set of circumstances?
One last thing.  Considering the number of incumbent Republican officials that have already been bounced in primaries, on top of other clear establishment preferences going down to defeat (the Kentucky Senate race being one such example of the latter), are we headed towards a new era where establishment preferences no longer hold as much sway,  assuming of course that they do currently?
These are all questions to ponder, and perhaps an enterprising individual out there could crunch some of the numbers.  It almost sounds like a project for a Political Science class.  Just credit Professor Zummo for giving you the idea.
Why do Little Bear's parents wear clothes while he runs around in the buff?  What's going on in that family?
This is either a very clever and creative way to address Linda McMahon's ties with the world of professional wrestling, or the most cringe-inducing spot I've ever seen.  As of the moment I am torn between both opinions.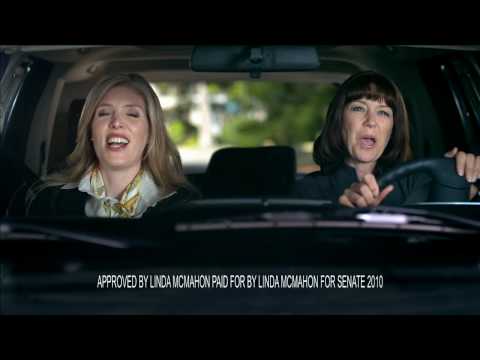 Gee darn, I guess Michael Sean Winters didn't care for my post on the KKK and the Progressive movement (which had been posted at The American Catholic).
They have a bizarre post about the Klan and Progressivism that reads like cliff notes of a Glenn Beck special.
You see, I wrote a post that challenged the historical narrative about the Klan and its place on the ideological spectrum, and this is the best that poor Mikey can do to rebut it.  As learned as I am sure Mikey Sean is about American history and political theory, I am not exactly shedding too many tears.
What caught my attention, though, is that in the next breath he (correctly, in my view) condemned this post also put up at TAC.
But, they also have an article about U.S.-Israeli relations that includes this sentence: "Is the ultimate plan of the Israeli braintrust to find a rationale for one big war in order to ethnically cleanse most of the rest of the Palestinians into Jordan/Egypt/Lebanon et al?"
It is, arguably, the most repulsive sentence I have read all year. Suggesting that the Israeli government engages in ethnic cleansing is beyond the pale of kookie, and more than halfway to evil. While we have an obligation to call-out such outrageousness, there is no real arguing with someone who makes such a claim. As Barney Frank, that pro-Israel congressman said, better to argue with your dining room table.
I agree.  Frankly the post was so silly and so ignorant that it merited the silence it received in the comments section.
Here's the thing.  The post was authored by Tim Shipe.  Shipe, for those of you unfamiliar with The American Catholic, is one of the blog's few leftist contributors.  In fact I think it is perfectly fair to categorize Shipe as a Progressive.
So a post that Winters considers to be borderline anti-Semitic was written by a Progressive, and yet the idea that the KKK and the Progressive movement could be in any way linked is "bizarre."
Irony can be ironic.
I am just exhilarated by this news:
Mike Huckabee is opening a HuckPAC office in California — another sign that he's far from finished with national politics. Huckabee's Golden State operation will be advised by Chuck DeVore, a tea-party favorite and former U.S. Senate candidate, who lost to Carly Fiorina in last month's GOP primary.
How exciting.  Are there any more retread losers from 2008 that we can cram into this race?  Maybe we can go way back into campaign past and see what Steve Forbes is up to.
I said this last time, and I will repeat it here.  If Mike Huckabee is the Republican nominee in 2012, I am voting third party.  Then again, I might as well promise to vote third party should Hillary Clinton be the GOP nominee.  It ain't gonna happen Mike, but keep California dreamin'.
I think by now you are all familiar with the Shirley Sherrod affair.  John Hawkins summarizes at Right Wing News for all of you who would like to get caught up.  Long story short, a clipped video shows her speaking about how she once denied help to a white farmer, but the full clip demonstrates that she had a change of heart.  She resigned (was fired) from the USDA, but it's fairly obvious that she has been, in many ways, wronged by the incident.  Andrew Breitbart claims that he did not have the full video and was not the one who did the selective editing.  I give him the benefit of the doubt on that one, and I think the over-reaction to the incident is just the release of pent-up frustration by many on the left towards someone who has beaten them at their own game repeatedly.  But she did not deserve to lose her job over this incident.
That said, as Hawkins goes on to explain, we shouldn't exactly be shedding too many tears for poor Shirley.  Here is another clip from the same speech.  The key moment comes at 2:20.
While there is much in this clip to commend – "we're not different" – there's also some questionable history.  But that's neither here nor there.  In this case, I'll give her the benefit of the doubt and assume that he intentions are not malignant.  However, her mini-rant about the tea party movement (or the anti-health care reform movement) is mind-numbingly stupid.  For those who don't want to or can't watch the video, she said:
I haven't seen such mean people as I've seen lately over this issue of health care.  Some of the racism we thought was buried, didn't it surface?  (Ed: I couldn't quite catch those last couple of words.  She might have said "resurfaced.") We endured eight years of the Bushes and we didn't do the stuff these Republicans are doing because you have a black president.
So we return to the typical line of stupidity.  The only reason we oppose health care reform is because we're all a bunch of Neanderthal racists, and our contempt for the president has nothing to do with his policies – oh no – it's all about his skin color.
Is this a firing offense?  Not with this administration, otherwise there would be no one left in it.
Michael Zak does what all too many on the left fail to do:  crack open some history books and take a real look at the history of the Ku Klux Klan.  Zak correctly notes that when the Klan was at its zenith during the 1920s, it was a terrorist wing of the Democratic party, and that since its inception, Republicans were at the forefront in trying to take it down.
It would have been far more truthful for the congresswoman to have admitted the fact that all those who wore sheets a long time ago lifted them to wear Democratic Party clothing.  Yes, the Ku Klux Klan was established by the Democratic Party.  Yes, the Ku Klux Klan murdered thousands of Republicans — African-American and white – in the years following the Civil War.  Yes, the Republican Party and a Republican President, Ulysses Grant, destroyed the KKK with their Ku Klux Klan Act of 1871.

How did the Ku Klux Klan re-emerge in the 20th century?  For that, the Democratic Party is to blame.

It was a racist Democrat President, Woodrow Wilson, who premiered Birth of a Nation in the White House.  That racist movie was based on a racist book written by one of Wilson's racist friends from college.  In 1915, the movie spawned the modern-day Klan, with its burning crosses and white sheets.

Inspired by the movie, some Georgia Democrats revived the Klan.  Soon, the Ku Klux Klan again became a powerful force within the Democratic Party.  The KKK so dominated the 1924 Democratic Convention that Republicans, speaking truth to power, called it the Klanbake.  In the 1930s, a Democrat President, Franklin Delano Roosevelt, appointed a Klansman, Senator Hugo Black (D-AL), to the U.S. Supreme Court.  In the 1950s, the Klansmen against whom the civil rights movement struggled were Democrats.  The notorious police commissioner Bull Connor, who attacked African-Americans with dogs and clubs and fire hoses, was both a Klansman and the Democratic Party's National Committeeman for Alabama.  Starting in the 1980s, the Democratic Party elevated a recruiter for the Ku Klux Klan, Senator Robert Byrd (D-WV), to third-in-line for the presidency.
I have one quibble with all this.  It focuses too much on the partisan aspect of the KKK and not enough on its ideological drive.  After all, modern day Democrats could just claim that the Klan represented the conservative wing of the Democratic party.  This would be an error.
While most members of the Klan held what would be termed conservative views on social issues, they were hardly purveyors of Burkean conservative values.  In fact the Klan typified the Progressive/Populist movement to a tee: "conservative" socially but decidedly left-wing economically and politically.  They supported government intrusion into the economy and were backers of the New Deal.  Jesse Walker explains some of the areas of overlap between the Progressive movement and the Klan:
1. Progressivism had roots in the Protestant pietist tradition, and its partisans were frequently interested in reforming individuals as well as institutions. It's a quick jump from there to the moral authoritarianism described in Charles Alexander's books. Jane Addams, the Social Gospel activist who played such a big role in passing protective labor regulations and compulsory schooling laws, was also a critic of the "debased form of dramatic art, and a vulgar type of music" that a young person might find in the five-cent theaters, writing that it was "astounding that a city allows thousands of its youth to fill their impressionable minds with these absurdities." Prohibition, that Klan kause kelebre, reached its height as a cause during the Progressive Era, complete with muckraking exposés of the "whiskey ring" and culminating with the passage of the eighteenth amendment in 1919.

2. Racism also had a foothold among the progressives. It might be tempting to argue that bigots like Woodrow Wilson, who introduced Jim Crow rules to the federal government, were merely progressive in some areas and reactionary in others. But the American eugenics movement was tied closely to the progressives' drive for "scientific" reform, and its heyday covered both the Progressive Era and the '20s. Politicians offered eugenic arguments not just for laws that banned miscegenation and allowed authorities to sterilize the allegedly unfit, but for restrictions on immigration from southern and central Europe.

3. The progressives and the Klan shared an interest in mandating public education and eliminating urban political machines. The civic-activist historians tell us that the rank-and-file Klansman's interest in such reforms was frequently a sincere response to corruption and inadequate schooling, though it's clear that their urban proposals owed at least something to their fear of immigrants, and that their education proposals were transparantly anti-Catholic. If the Klan's motives were not purely nativist, then neither were the progressives' purely benign: Just as the Klansmen sometimes shared the progressives' hopes, the latter sometimes shared the Klansmen's fears.

4. In the late 1910s the Klan was a small regional organization. In the early '20s it was large and national. There's a number of reasons why it made this leap, but the biggest may be the effects of World War I. This too marked a connection with progressivism.

As the historian William Leuchtenburg and the economist Murray Rothbard have argued, Wilson's wartime policies were an outgrowth, not a negation, of Progressive Era politics. During the conflict, government planners and "enlightened" corporate leaders replaced a relatively free market with a heavily regimented economy, while intellectuals hoped, in Leuchtenburg's words, to adopt "the same sort of centralized directing now employed to kill their enemies abroad for the new purpose of reconstructing their own life at home."
Jonah Goldberg discussed some of the nastier, racist elements of the Progressive movement in Liberal Fascism. Justin Logan also has taken a look at the links between the Klan and Progressives, and there is other literature that touches upon this phenomenon.
Long story short, the Klan were largely comprised of people we would term statists.  This is not to say, of course, that all Progressives were racists or klansman, but the idea that the KKK was some kind of right-wing group is not anywhere near accurate.
There must be something in the water here that my body has developed an immunity for:
Overall, the 1,011 people surveyed nationally have a very pessimistic take on the direction of the country.

Only 27 percent believe the country is headed in the right direction, compared with 61 percent who think the nation is on the wrong track. Likewise, when asked whether the national economy is heading down the right or wrong track, just 24 percent chose the right track, compared with65 percent for the wrong track.

Yet among the 227 Washington elites polled, more think the country is on the right track, 49 percent, than the wrong track, 45 percent. On the economy, 44 percent of elites think the country is on the right track, compared with 46 percent who believe it is not.

To qualify as a Washington elite for the poll, respondents must live within the D.C. metro area, earn more than $75,000 per year, have at least a college degree and be involved in the political process or work on key political issues or policy decisions.
There's a simple explanation for all this: people that live here have had their bodies taken over by alien pod people – it would certainly explain the way they drive.  I just practice constant vigilance.  But I'm keeping my eye out.
So does Charles Krauthammer hit the nail on the head when he suggests that President Obama can win by losing, and that he's already significantly altered the political landscape in the leftists' favor?
Consider what he has already achieved. Obamacare alone makes his presidency historic. It has irrevocably changed one-sixth of the economy, put the country inexorably on the road to national health care, and, as acknowledged by Senate Finance Committee chairman Max Baucus but few others, begun one of the most massive wealth redistributions in U.S. history.

Second, there is major financial reform, which passed Congress on Thursday. Economists argue whether it will prevent meltdowns and bailouts as promised. But there is no argument that it will give the government unprecedented power in the financial marketplace. Its 2,300 pages will create at least 243 new regulations that will affect not only, as many assume, the big banks, but just about everyone — including, as noted in one summary (the Wall Street Journal), "storefront check cashiers, city governments, small manufacturers, homebuyers and credit bureaus."

Third is the near $1 trillion stimulus, the largest spending bill in U.S. history. And that's not even counting nationalizing the student-loan program, regulating carbon emissions by EPA fiat, and still-fitful attempts to pass cap-and-trade through Congress.

But Obama's most far-reaching accomplishment is his structural alteration of the U.S. budget. The stimulus, the vast expansion of domestic spending, and the creation of ruinous deficits as far as the eye can see are not easily reversed.

. . .  The net effect of 18 months of Obamaism will be to undo much of Reaganism. Both presidencies were highly ideological, grandly ambitious, and often underappreciated by their own side. In his early years as president, Reagan was bitterly attacked from his right. (Typical Washington Post headline: "For Reagan and the New Right, the Honeymoon Is Over" — and that was six months into his presidency!) Obama is attacked from his left for insufficient zeal on gay rights, immigration reform, closing Guantanamo — the list is long. The critics don't understand the big picture. Obama's transformational agenda is a play in two acts.
Krauthammer goes on to suggest that Obama's ability to be re-elected will be helped by Democrat defeat this November.
As for Goldberg, he also thinks that the landscape has changed, but not in the way that Krauthammer suggests.
But what about when the rules change? For nearly a century now, the rules have said that tough economic times make big government more popular. For more than 40 years it has been a rule that environmental disasters — and scares over alleged ones — help environmentalists push tighter regulations. According to the rules, Americans never want to let go of an entitlement once they have it. According to the rules, populism is a force for getting the government to do more, not less. According to the rules, Americans don't care about the deficit during a recession.

And yet none of these rules seem to be applying; at least not too strongly. Big government seems more unpopular today than ever. The Gulf oil spill should be a Gaia-send for environmentalists, and yet three-quarters of the American people oppose Obama's drilling ban. Sixty percent of likely voters want their newly minted right to health care repealed. Unlike Europe, where protesters take to the streets to save their cushy perks and protect a large welfare state, the tea-party protesters have been taking to the streets to trim back government.
But even on the Continent the rules are changing. European governments have turned into deficit hawks to the point where the American president feels the need to lecture them on their stinginess.
So which pundit is right?  In a way, they're both right.  But in another, more accurate way . . . they're still both right.
Earlier in the week, I was going to link to something Andy McCarthy wrote.  He actually wrote this a while back, but he had just recently mentioned it again.
First, with a significantly bigger and more powerful government bureaucracy, there will be many avenues for leadership to reward Democrats who lose their seats after casting the unpopular votes necessary to enact the Left's program. White House chief of staff Rahm Emanuel, who spent his post-Clinton wilderness months in a lucrative sinecure at Freddie Mac, knows well how this game works — and, under Obama's command, the economy is becoming one big Freddie.

Second, and more important, Democrats know the electoral setbacks will only be temporary. They are banking on the assurance that Republicans merely want to win elections and have no intention of rolling back Obamacare, much less of dismantling Leviathan.

For my money (while I still have some), that's an eminently sound bet. The Bunning battle, in which the GOP was nowhere to be found, is the proof. Bunning just wanted Congress to live within its gargantuan means. Yet, the Washington Post ridiculed him: "angry and alone, a one-man blockade against unemployment benefits, Medicare payments to doctors, satellite TV to rural Americans and paychecks to highway workers." That's outrageously unfair, but it is a day at the beach compared to the Armageddon that would be unleashed upon any attempt to undo Obama's welfare state on steroids.

As it turns out, Republicans didn't have the stomach for a fight over wealth transfers that plainly exacerbate the problem of unemployment. Why would anyone think they'd take on a far more demanding war, in which Democrats and the legacy media would relentlessly indict them for "denying health insurance to millions of Americans"?

Even if the GOP gets a majority for a couple of cycles, even if President Obama is defeated in his 2012 reelection bid, Obamacare will be forever. And once the public sees that the GOP won't try to dismantle Obamacare, it will lose any enthusiasm for Republicans. Democrats will eventually return to power, and it will be power over a much bigger, much more intrusive government.

Health care is a loser for the Left only if the Right has the steel to undo it. The Left is banking on an absence of steel. Why is that a bad bet?
Krauthammer's column largely echoes this.  The reason I didn't link to this is because I'm not sure this degree of pessimism is warranted.  It's not that such concerns are groundless, but I can't help but wonder if Goldberg is on to something and we're seeing a tectonic shift in American politics.
We have been moving steadily along the Progressive bent for well near a century – what began with a drip with Woodrow Wilson became a torrent under FDR.  Reagan stemmed the tide, but the Reagan revolution of 1980 and the Gingrich revolution of 1994 did not fundamentally alter our political culture.  Americans, it turned out, still liked the government.  They still believed that government was ultimately responsible for making everybody's life better.  Oh, sure, people talked about limiting the size of government, but at the end of the day Bush's quip that when somebody's hurt, government's got to move was one that most people agreed with.
In that sense, then, Krauthammer and McCarthy are right.  Obama and the left have made enormous changes over the past eighteen months, and recent American history suggests that these will never be undone.  The best we can hope for is a replay of the Eisenhower administration where we merely slow down the assault, but we don't roll back the changes.
But I also share Goldberg's optimism.  I do sense, along with him, that the electorate is changing, slowly but surely.  The populace has not welcomed the rapid advance of government intrusion as it did in 1933.  There are several possible explanations – one being simply that things aren't nearly as bad now as they were then, and the spirit of entrepreneurship is a little stronger now because we're not quite on the precipice of out and out economic collapse.
In the end, something has to give.  Right now I just don't know which side is the one to give.

Enlightened statesmen will not always be at the helm. – James Madison.
You sure got that one right, Jim.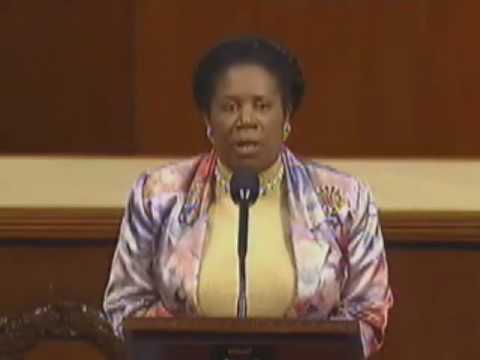 North and South Vietnam?  What?
Ace posits a theory:
Does Sheila Jackson-Lee's knowledge of the Vietnam War (and its aftermath) come from The Watchmen?