Jan
28
In deciding to skip the State of the Obama address, I missed this whopper: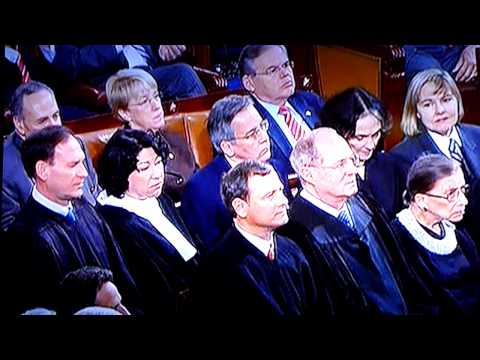 The text:
"Last week, the Supreme Court reversed a century of law to open the floodgates for special interests – including foreign companies – to spend without limit in our elections," the president said, according to early excerpts of his speech released by the White House.

"Well I don't think American elections should be bankrolled by America's most powerful interests, and worse, by foreign entities. They should be decided by the American people, and that's why I'm urging Democrats and Republicans to pass a bill that helps to right this wrong."
So the President embarrasses the Supreme Court in front of a joint session of Congress, and manages to spread not one, but two lies.  Even the New York Times of all places acknowledges one of them.
But in his majority opinion in the case, Citizens United vs. the Federal Election Commission, Justice Anthony Kennedy specifically wrote that the opinion did not address the question of foreign companies. "We need not reach the question of whether the government has a compelling interesting in preventing foreign individuals or associations from influencing our Nation's political process," he wrote. The court held that the First Amendment protected the right of American corporations to spend money on independent political commercials for or against candidates. Some analysts or observers have warned that the principle could open the door to foreign corporations as well.
So much for the foreign corporations bit.  As for the idea that corporations will be able to spend without limits, the prohibition on corporations from directly financing candidates still stands.
Based on his reaction, I'm guessing Samuel Alito might have other plans when next year's State of the Union address rolls around.
Update: My friend Jay Anderson has further thoughts.  Believe it or not I actually toned down this blog post considerably after editing, so Jay expressed exactly what I'm feeling.
This constitutional power play and effort at intimidation by Obama (with the full Court present at the SOTU speech) has to be about the most graceless and classless thing the man has done since taking office (although his mocking of the notion that morality might place some limits on scientific research during his speech announcing that he would fund ESCR ranks right up there).

The man has no class and absolutely no moral compass beyond his own wants and preferences. The rightness or wrongness of a thing is wholly dependant upon whether Obama wants it or not. This demogogic and patently false attack on the Court with the members of the Court front and center during the speech was nothing short of a disgusting display of arrogance and raw hubris.
President Obama's mixture of arrogance, radicalism, and incompetence is a wonder to behold.
Comments